See on Scoop.it – Newton Design and Marketing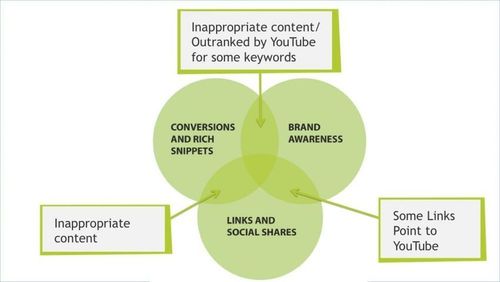 Excerpted from article:
"Creative agencies often fail at this, simply because they don't know how SEO works. Most creatives don't understand the full consequence of embeds or pointing to YouTube and Vimeo rather than to a company's site. Typically they don't understand how to get rich snippets, and so typically fail to get companies the SEO benefit due to them for the content they invest in.
As with copywriting, content creation, and development, success in the video space looks like "integrating the creative and the technical aspects of SEO."
For video, this means taking a goal driven strategy from inception to launch:
– Define the business goals.
– Define the appropriate audience, hosting, and promotional strategy for the goal.
– Create content that matches the business goals and the audience demographic.
Possible Goals for Video SEO:
1. Rich Snippets…
2. Conversions…
3. Brand Awareness…
4. Links and Social Shares…
Summary of Goals and Content Type:
Can I target more than one goal with the same bit of content?
Yes. But, you probably shouldn't. That's not to say you can't use the same piece of content for two different goals, but when you do, you typically dilute the return you're going to get, either because your content will not be particularly well suited for the goal, or because the technical implementation will cause compromise.
In most instances, it's much more effective to directly and exclusively target one of the goals, rather than attempt to do everything with one piece of content.
So what does a fully comprehensive Video SEO strategy look like?
With some variance dependent on vertical and business model, companies looking to achieve all of the above should look into creating four different kinds of content: one to target each marketing specific goal and audience demographic :
– Video created to improve conversions (with video sitemap submitted to get rich snippets);
– Video created to increase brand awareness through inbound channels;
– Video created to increase brand awareness through paid advertising;
– Video created to drive links and social shares back to the company's site;.."
Each element is analyzed with more and detailed information. Read full article here:
http://www.seomoz.org/blog/building-a-video-seo-strategy
Marcus G. Smith's insight:
Great strategy to follow, let Newton lead you in the right direction!
See on www.seomoz.org