See on Scoop.it – Newton Design and Marketing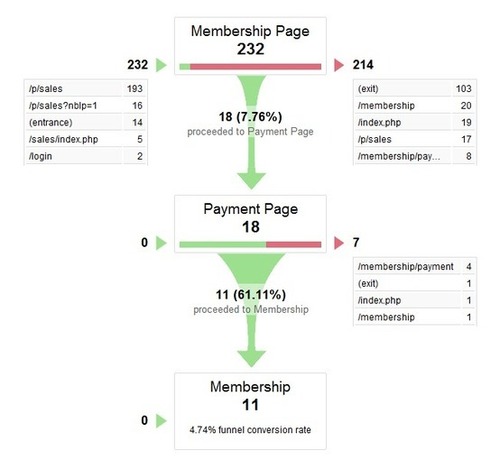 Excerpted from article on KISSmetrics:
"Getting quality traffic on the interwebs is one of the hardest things you'll ever have to do. We can spam Twitter, Facebook, Reddit, and LinkedIn all day. We'll get a ton of traffic. But that won't get us anywhere. We might go from 100 visits to 10,000 visits and still have only 2 customers.
Luckily, we have another option…
Get more customers with the traffic we already have:
The key to making this work is the marketing funnel.
Remember, funnels measure the number of people who move through a series of steps in order to become a customer.
…
Funnels help you find the bottleneck in your customer acquisition.
Once you know where people drop off in large batches, you'll know which part of your business needs the most improvement. And once you fix the problem, you'll get more customers with the same amount of traffic. That's the beauty of tracking funnels.
5 Best Practices for Building Funnels
1. Fewer Steps is Better than More Steps:
One of the easiest ways to increase the percentage of people who get through your funnel is to eliminate a step. Yup, just hack it out completely. Even if you have an amazing design, world-class copy, and a perfect product, you'll still lose people at each step.
I want you to be RUTHLESS with your funnels. Hack and slash every unnecessary click, field, button, and page you can. Have no mercy.
2. Start With a Benchmark:
This applies to ALL your metrics, not just your funnels.
Based on your industry, business model, target market, and the alignment of the stars, you'll find a huge difference in metrics from one site to the next.
3. Look for Bottlenecks
I already alluded to the best way to prioritize your funnel improvements.
When you're looking at your entire funnel and trying to decide which step gets your attention first, start with the bottlenecks. In most funnels, there are one or two steps that aren't really steps. They're brick walls.
Your mission? Find your bottlenecks and patch them asap.
4. When A/B Testing, Track the Impact on the Entire Funnel
Once you find your bottlenecks, you'll want to start launching improvements to see if you can fix them. The best way to do this is with an A/B test.
A/B tests typically track only the next step.
As soon as you start testing improvements in your funnel, test your changes on the ENTIRE funnel instead of just the next step. This way, you won't slow your customer growth by accident. And yes, I've seen this happen.
5. Track People
There's a myth that most marketers automatically believe. As soon as you start to track your funnel, you'll assume that customers move orderly through it.
This is false.
People bounce around in funnels.
So how do we get around this? Use customer analytics so you can track people. Then you'll know how many people moved through each step, even if they're bouncing around beforehand…"
The article is analyzed with more information, examples, and some tools. Read full article here:
http://blog.kissmetrics.com/use-conversion-funnels/
See on blog.kissmetrics.com